Amarinder Singh's Letter To Sonia Gandhi Against Navjot Sidhu: 10 Points
Read Time:
2 Minute, 25 Second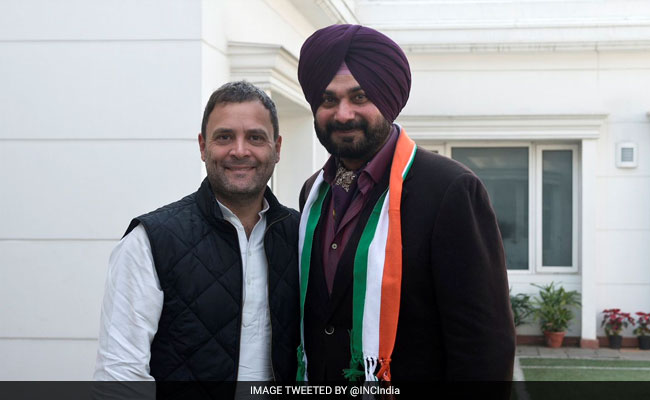 <!–
–>
Highlights
Amarinder Singh is believed to be resistant to Navjot Sidhu's promotion
On Thursday, tensions peaked after reports of Mr Sidhu's promotion
Navjot Singh Sidhu met with Sonia Gandhi, Rahul Gandhi in Delhi today
New Delhi: Navjot Singh Sidhu met with Congress president Sonia Gandhi and Rahul Gandhi today in Delhi a day after a dramatic escalation in his feud with Punjab Chief Minister Amarinder Singh and a flurry of meetings by rival factions.
Here's your 10-point cheatsheet to this big story:
Sources say Amarinder Singh is not on board with a plan to elevate Navjot Sidhu as Punjab Congress chief. He has written to Sonia Gandhi expressing his reservations, according to sources.

Congress MLA Rajkumar Verka, confirming the letter, called it a "suggestion note" by the Chief Minister on how castes need to be represented adequately in the party and the state cabinet.

Hours after Mr Sidhu's meeting with Sonia Gandhi and Rahul Gandhi, his supporters organised "celebrations" in Chandigarh though any announcement had yet to break.

Congress's Punjab in-charge Harish Rawat, who was at the meeting, told reporters he had "never said" Navjot Sidhu would be Punjab Congress chief. His comments yesterday on a compromise had set off talk about Mr Sidhu's promotion and a shake-up in the Punjab cabinet.

"I have submitted my note. I believe Congress president will take her time and come to a decision soon," Mr Rawat said. On Mr Singh possibly objecting to the reported peace plan, he replied: "If there is any communication gap, I am here to take care of it."

According to the plan, Mr Sidhu will take over as Punjab Congress president with two working presidents, "one from the Dalit community and the other a Hindu face".

Tensions peaked on Thursday over the rumoured changes. By 9 pm, both Amarinder Singh and Mr Sidhu had rounded up MLAs and ministers on their side and were deep into separate meetings.

Mr Sidhu held a meeting with six MLAs, including three ministers — Sukhjinder Singh Randhawa, Charanjit Singh Channi and Tript Rajinder Bajwa – who have openly rebelled against Mr Singh. Sources said the ministers feared sacking in the anticipated cabinet changes.

The Chief Minister held discussions with party MLAs and MPs supporting him at his private farmhouse in Mohali. Mr Singh had met Sonia Gandhi last week and had said later that he would accept "whatever decision is taken by the Congress high command".

The rift between Amarinder Singh and Navjot Sidhu, festering since the Congress won the Punjab election in 2017, has endangered the party's re-election bid next year. Mr Sidhu, who quit the BJP and joined the Congress just before the 2017 election, has been fighting for a bigger slice of power but so far, Mr Singh has been resistant to the idea.